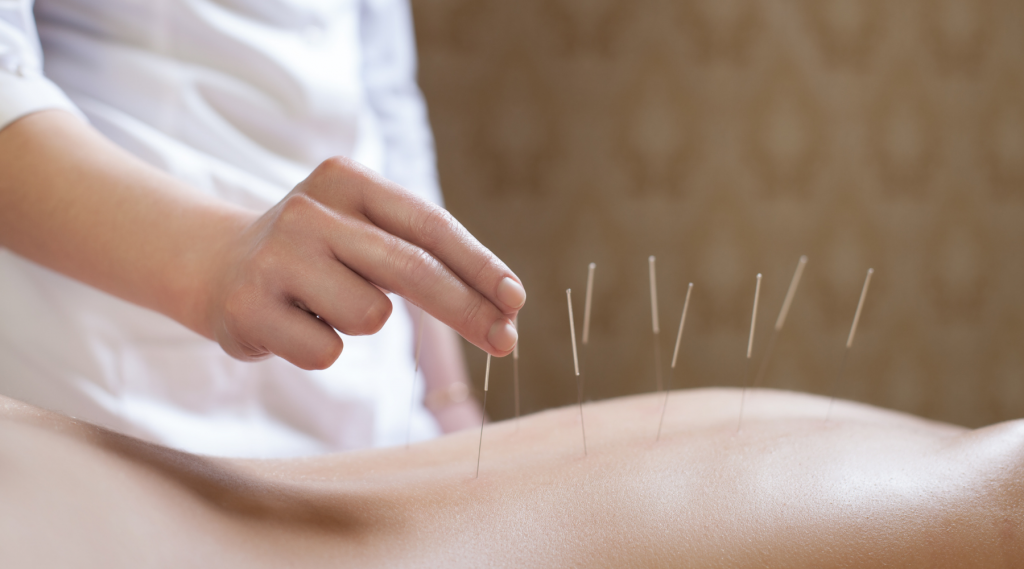 What is Acupuncture?
Acupuncture in integrative medicine is the insertion of very thin needles through your skin at strategic points on your body. These points are activated through gentle and specific movements of the practitioner's hands. They are most commonly used to treat pain, overall wellness, including stress management.
Acupuncture is the ancient practice of Traditional Chinese medicine. Practitioners believe the human body has more than 2,000 acupuncture points (also called Tsubo points, meridian points, or acupuncture points). These points follow a system of 12 meridian lines that pass through the body. Learn more here.
Meridians are passageways through which energy, known as Qi, flows through the body and is responsible for overall health. If there is any disruption of the Qi energy flow, it can lead to disease. Inserting acupuncture needles to specific points improves the flow of Qi by rebalancing the flow and, thereby, improving health.
How does Acupuncture work?
Using tiny thread-like needles in acupuncture stimulates specific points on the body to accelerate healing and reduce pain. Through years of experience, our clinic has understood that acupuncture helps the body heal by modulating the autonomic nervous system.
When the body consistently experiences chronic pain, trauma, or high stress, the nervous system gets "locked" into a sympathetic state: a fight or flight response. Being in this state adversely affects the body's communication systems and increases inflammation. Click here for more information.
Acupuncture helps bring the nervous system into a relaxed, calm parasympathetic state. The body learns to smoothly transition between stress (sympathetic state) and relaxation (parasympathetic state). Over time, with consistent acupuncture treatments, the nervous system regulates and finds its natural ability to heal itself.
What can Acupuncture treat?
Many people are surprised to find out that acupuncture helps to not only to treat pain, but is very effective in treating a variety of conditions. Click here for our complete list.
Acupuncture will help you have less pain and tension, more energy, and less fatigue. It can give you an increase in sex drive or fertility and even lessen PMS & discomfort before or during menstruation.
Acupuncture is safe, has no harmful side effects, and has the added benefit of:
reducing stress

elevating mood and overall feeling of wellness

promoting sound, restful sleep

improving digestion

boosting your immune system
Acupuncture influences:
the release of pain-relieving endorphins

the release of neurotransmitters (substances that transmit nerve impulses to the brain and digestive system)

the autonomic nervous system

the electrical currents of the body
What can I expect in my first acupuncture appointment in Santa Rosa?
Your initial visit will last between 90-120 minutes. During this time, we will sit down and discuss your current symptoms, medical history, emotional health, and other pertinent information related to your health.
Radiya Heather Austin, your practitioner, will pulse both wrists to determine how energies flow in the body. She may also assess the color, coating, and structure of your tongue.
During this evaluation, we observe your emotions and voice which aids in the diagnosis and development of a unique treatment for you. The ultimate goal is to assist in harmonizing your overall energy.
Your first treatment begins with needles that are sterile, single-use, and disposable. You will also be provided with a gown or sheet as you lie on the treatment table. The treatment involves:
Needle insertion. Five to twenty needles are inserted to various depths at strategic points on your body. Insertion usually causes little discomfort. You may feel a slight aching sensation when the needle reaches the correct depth.
Needle manipulation. Needles may be moved or twirled gently after each placement. Heat or gentle electrical pulses may also be applied.
Needle removal. Needles traditionally remain in place for 10 to 20 minutes. There is usually no discomfort during needle removal.
After the procedure some people feel relaxed, while others have mentioned they tend to feel energized after an acupuncture treatment. It is recommended to have a trial course of 4-8 visits during a month.
If you are happy with the results, Radiya Heather Austin may require follow-up visits to maintain balance. Just as with other forms of treatment, some patients may need long-term care. Subsequent treatments last approximately 60-80 minutes.
If you think acupuncture may be right for you, contact Abundance Acupuncture Clinic in Santa Rosa, California, for your first consultation. We are happy to discuss with you the number of other treatments we offer, such as Ozone Sauna Therapy or Cyberscan Biofeedback.
Be sure to complete your digital New Patient Intake Form before your first appointment. Please refrain from wearing perfume, cologne, or other heavily scented products.